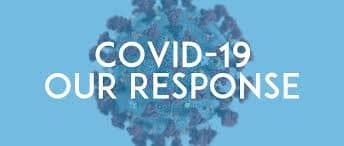 We are committed to serving our clients and the community during the Covid-19 pandemic. Even during times of uncertainty technology places, a major role in the fighting and protection from contagious diseases. While taking every precaution as possible we know it's our duty to keep these vital systems running and working at peak efficiency. Our team is working on the front line with healthcare providers whose role is vital in keeping the public safe. For the safety of our clients, staff and the general public we are keeping our engineers that have worked in these dangerous conditions isolated for at least 14 days before visiting other client sites or our office. The field engineers servicing our less at-risk clients are also provided personal protective gear PPE that get changed out when going from one location to another. They are also kept isolated from other employees plus all of our field technicians are having their temperature taken daily and checked for any signs of infection. While our help desk staffs have been instructed to work from home but continue to provide vital remote support over the phone and via screen sharing sessions. Our heart goes out to anyone and their families working to fight this disease. We continue to pledge our support in any way we can and ask that you pray for everyone who has been affected by these unprecedented times.
For our clients that have been impacted financially by the Covid-19 pandemic. We are offering payment plans that spread your balance out over future months making them more manageable and giving you precious time for the economy to recover from this extended lock down order.
Understandably times are tough with viruses human or computer based and a shifting economy making IT expenditures detrimental under certain circumstances. Showing our clients significant savings by outsourcing their IT needs to our local staff of technicians and engineers. By utilizing our team of techies, you get to benefit of a wider range of skills and accumulative knowledge than someone you could hire full time. Getting the job done quicker and with the peace of mind it was done right. We take trust and client relationships very seriously. We take the roll of a systems / network doctor with an ethical approach and the Hippocratic oath of do no harm. Doing and recommending what's best for our clients not what makes us more money or is easier to do. We utilize a suite of advanced time saving automation tools. Most notable our "Lake View" platform which performs a host of tasks a human would normally need to do working especially well on bulk tasks that require being run on a lot of systems at once. Saving you time, money and man power plus most tasks can run in the background while the computers are in use. Our team also gets to take advantage of our ticketing system which is a huge repository of knowledge containing all of the issues we've ever encountered along with a step by step guide to resolving it. We can search this system by keywords, client or ticket number providing even more time and money saving abilities. Knowing any fix found in the system has stood the test of time or the ticket never would have been closed.
Lakeside Techs was founded in Chicago Illinois, but quickly expanded our reach to proudly serve any business that would gain from our unwavering support. From the simplest printer install to the most complex private cloud setup, Lakeside Techs has been there and done that with the track record to prove it. With thousands of projects under our belt our success rate is greater than 99.999% that includes a satisfaction guarantee before final payment is requested.
IT Certifications Attained by our Staff
CompTia
A+, Network+, Server+, Security+, Internet+ & Linux+
Cisco
Cisco Certified Technician (CCT) Data Center
Cisco Certified Technician (CCT) Routing & Switching
Cisco Certified Network Associate (CCNA) Data Center
Cisco Certified Network Associate (CCNA) Routing & Switching
Cisco Certified Network Professional (CCNP) Routing & Switching
Microsoft
Microsoft Certified Professional (MCP)
Microsoft Certified Systems Administrator (MCSA)
Microsoft Certified Systems Engineer (MCSE)
VMware
VMware Certified Administrator – Data Center Virtualization (VCA-DCV)
VMware Certified Professional – Data Center Virtualization (VCP6-DCV)